Surgical wing & Operation Theatre
A wide range of surgical procedure in good volume is now being routinely performed every month.Our OT is full fledged modern unit with state of the art anesthesia equipment, anesthesia ventilor and latest surgical technology including stryker 3 chip laparoscopy system, Olympus karl storz endourology equipment.
All type of general surgery including hernia, thyroid, parotid, breast and GI surgeries.
All type of Cancer surgery including head & neck cancer and urological cancers.
Laproscopic surgery including, laparoscopic cholecystectony, laparoscopic, appendicectomy, diagnostic laparoscopy, laparoscopic hysterectomy etc.
All endo-urological procedures like PCNL, URS, TRUPP.
Anorectal surgeries including stapled hemorrohoidopexies, high fistula-in-ano, pilonidal sinus etc.
Diagnostic & Therauptic, flexible laryngoscopy and flexible bronchoscopy.
OPD Block
We have a well ventillated OPD Hall which can well accommodate around 100 persons at a time. The OPD Hall is well connected to every consultant chambers, X-Ray, Major Labs, I.C.U. & I.C.C.U.
Digital X-Ray Unit

100 MA digital X-Ray machine which can do all kind of routine X-Ray and special procedures. GE portable X-Ray machine for doing bed side X-Ray of critically ill patients.
Ultrasound
We have Logic GE P3 Ultrasound machine which can do all the ultrasonic examination of upper & lower abdomen, thyroid soft tissue etc.
Ambulance

We have a 24 hrs ambulance service with facility of cardiac monitor, Pulse oxmeter, Portable ventilator & all other necessary equipments to shift/receive critical ill patients.
Endoscopy Lab

We have fully computerised video endoscope system (olympus GIF-130) with following facilities:-
Upper GI Endoscopy (Diagnostic).
Endoscopic Foreign Body Removal.
Endoscopic Variceal ligation(EVL).
Endoscopic Biopsy.
Endoscopic Ryle Tube/Brachy Catheter Implantation.
Palliative Self Expandable Metallic Esophageal Stenting(SEMS).
Endoscopic Esophageal Dilatation.
Percutaneous endoscopic Gastrostompy(PEG).
Endoscopic H. Pylori Testing (Rapid Urease Test).
Diagnostic Facilities

Laboratory :(24 hrs services)
Pathology Lab is run by Senior Renowned Pathologist (Dr. G.R. Gupta)
Our laboratory is equipped with all the latest and modern instruments. List of few of the instruments are as follows :-
– Semiautomated & fully automated biochemistry analayzer.
– Cell Counters.
– Electrolytes Analyzer.
– Coagulation Analyzer.
– Histopathology.
– Hormones, FNAC & other cytology reports within a couple of hours.
Pulmonary Function Test (Spirometry)
By a computrized unit with facility of reversibility Assessment.
Hemo Dialysis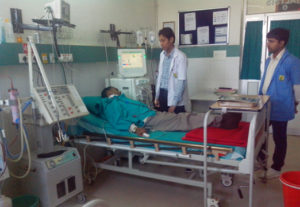 Hemodialysis Department at Geetanjali Hospital provides quality service for patients with acute or chronic renal (kidney) failure.
We cater to patients needs and concerns by focusing on a caring and supportive environment whilst they are undergoing treatment. Our doctors and nurses always provide high quality and continuous care of our patients' physical, mental, emotional, and social needs in order to enable them to lead a happy family life within the society.
Hemodialysis Machine