Health Information

Health and physical activity tips including information on men's and women's health and wellness including advanced nutritional products for the immune system, joint health, weight loss and general health. All five components of fitness and health: strength training, weight management, cardiovascular exercise, nutrition, and flexibility training.
Below are some general health tips which help you to keep your self healthy :
Drink 8-10 Glasses of Water a Day. This cleans out toxins and help the body function much better.
Take Time to Relax. Allow yourself to de-stress at least once a day.
Sleep 6-10 hours a night (or until you are well rested).
Get up Early in the morning and Take a walk.
Get regular exercise.(Push and pull heavy thing on do doctor's advise)
Maintain a healthy body weight(Move more, eat less)
Laugh. Let humour enter your life. One of the easiest ways of being healthier is to find a way to relax more and have more fun.
Have a light breakfast,Medium lunch and little dinner.
Don't ever think about smoking.
Regular physical activity – even at moderate levels – reduces the risk of heart disease, cancer, high blood pressure, and obesity.
Malaria

Malaria is a potentially deadly tropical disease characterized by cyclical bouts of fever with muscle stiffness, shaking and sweating. It is caused by a tiny parasite (genus Plasmodium) that is transmitted by the female mosquito (genus Anopheles) when it feeds on blood for its developing eggs.
Symptoms
The main symptoms of malaria include:
Fever
Shaking chills
Headache
Muscle aches
Tiredness
Nausea
Vomiting
Prevention of Malaria
Prevent mosquito bites, spray walls of the house with insecticides.
Avoid water stagnation and maintain environmental hygiene and cleanliness of surroundings.
Staph Infection

Staphylococcus is a group of bacteria that can cause a number of diseases as a result of infection of various tissues of the body. Staphylococcus is more familiarly known as Staph (pronounced "staff"). Staph-related illness can range from mild and requiring no treatment to severe and potentially fatal.
Symptoms
taphylococcal disease of the skin usually results in a localized collection of pus, known as an abscess, boil, or furuncle, depending upon the exact type of lesion that is present. The affected area may be red, swollen, and painful. Drainage or pus is common.
Prevention
Wash your hands. Careful hand-washing is your best defense against germs.
Keep wounds covered. Keep cuts and abrasions clean and covered with sterile, dry bandages until they heal.
Keep personal items personal. Avoid sharing personal items such as towels, sheets, razors, clothing and athletic equipment. Staph infections can spread on objects, as well as from person to person.
Glaucoma

Glaucoma is not a single disease entity but a group of conditions characterized by damage to the optic nerve (detected by pathological cupping of the optic disc) and loss of the field of vision.
Glaucoma Symptoms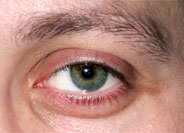 Gradual loss of peripheral vision.
Poor vision at night.
Blurring of vision.
Inability to adjust the eyes in dark rooms, such as cinema halls.
Frequent changes in the number of the spectacles.
Excessive tear production (watering of the eyes)
Redness in eye.
Prevention
Wear eye protection when you use power tools or play high-speed racket sports on enclosed courts, or otherwise risk being hit in the eye.
Urticaria (hives)

Hives are raised, often itchy red welts on the surface of the skin.Hives, which are also called, welts, wheals, and urticaria, are a common of an allergic reaction, and can be caused by food allergies, medications, insect bites, and many other triggers.
Symptoms of Hives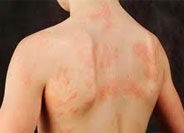 Sudden onset
Red or skin colored welts that resemble mosquito bites
Itching
Angioedema – swelling of lips, face, and tongue
Prevention
Avoid exposure to substances that give you allergic reactions.
If there is itch, apply a moisturizing cream.