Operation Theatre

The "Art of Surgery" resembles how good a "Surgeon". Good surgical finishing is not possible without experienced Surgeon guidance and well furnished equipments. These hands are of no use, if there is inadequate operation facilities. All surgical departments need a well equipped Operation Theater (OT) to work with. The surgical departments save the precious life through operation. About fifty percent of hospital beds are allocated to surgical departments signifying its importance. Geetanjali Hospital ensure patients of being healthy well in time.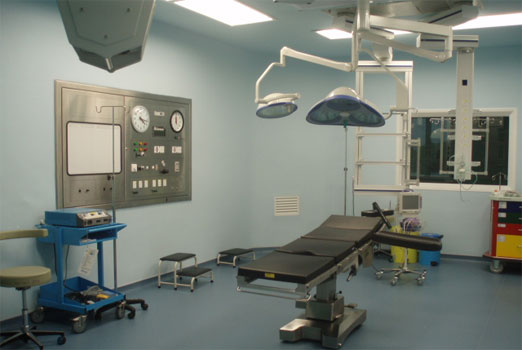 Facilities :
Adjacent Post operative recovery room.
Well equipped authenticated operating rooms.
Advanced anesthetic and surgical equipments, including laparoscopic and arthroscopic sets with high air powered drill systems.
Various surgical specialties, which utilize the O. T. round the clock, are :-
1. General Surgery
2. Oncosurgery
3. Gynae & Obst
4. Orthopedics
5. Surgical Gastroenterology
6. ENT
7. Ophthalmology
8. Nephrology
9. Neurosurgery
All these procedures are performed under special precautions and complete anti-septic conditions for infection control. Regular Microbiological surveillance effectively maintained at Geetanjali Hospital in order to avoid infection irregularities.
Our Operation Theatre Equipments-
| | | |
| --- | --- | --- |
| Steam Stelizer | Surgical Generator | Spectra Slim |
| Anaesthesia Gas Machine | Fumigator | Ultrasound Machine |
| Operation Table | Operation Theatre Light | Laproscopic Tools |